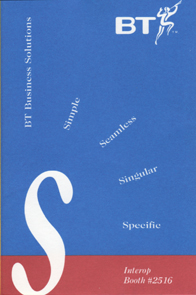 Amidst the chaos BT North America merging with MCI to form Concert Communications Services, the corporate data communications giant still needed to conduct business as usual at the annual InterOp trade show. With only three weeks on the clock, the main stage presentation that was to cycle every half hour was nonexistant. They contracted Jeff to save the day.
To spotlight the company's Concert service, he immediately created a presentation concept entitled "The Art of Business", wrote a quickly approved script for the 12-minute production, and assembled a small team to develop extremely creative graphics, animation and original music—all in tight synchronization for high impact. The fully animated audio-visual production played from a computer in real time to accommodate late-breaking script changes by executives, and was displayed on a large rear-projection screen behind a live actor—who stayed in sync with the script via a guide track on a wireless earpiece.
"Based on recommendations, credentials and attitude, we chose Jeff over several larger production companies. The results were more than we could have hoped for, with production values more akin to MTV than boring corporate presentations. Our main stage was a real show stopper and our executives were extremely pleased. When you work with Jeff Burger, you're getting top-notch work owing to his personal integrity, talent and vision."
—Peri Thompson
Trade Show Director
BT North America / MCI
About BT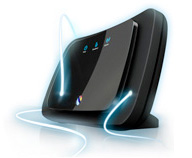 In 1994, BT (formerly British Telecom) and MCI (then the second largest carrier of long distance telecommunications services in the US), launched Concert Communications Services, a $1 billion joint venture company. This alliance gave BT and MCI a global network for providing end-to-end connectivity for advanced business services. Concert was the first company to provide a single source, broad portfolio of global communications services for multinational customers.